Hylink launches European hub in London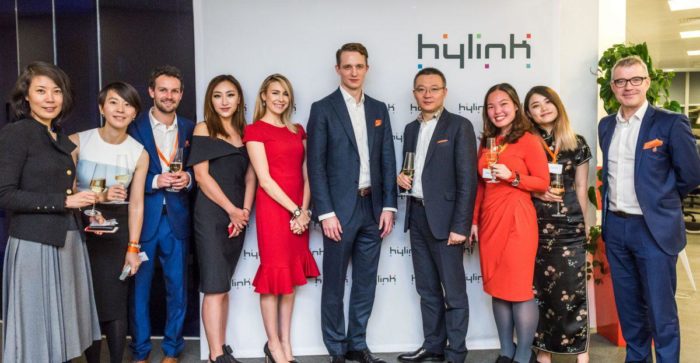 Hylink Digital (Hylink) is proud to announce themselves as China's first, independent, digital marketing agency to launch in the UK. Hylink aspire to creatively bridge the cultural gap in digital marketing between China, the UK and Europe from the new London office at a time when the opportunities of digital China can no longer be ignored. China has already invested £14bn in the UK since the start of 2015. British talent, products and design continue to remain indisputably desirable to international consumers – not least the Chinese. In the next five years, the number of middle-class consumers with spending power is set to triple to almost 550 million.
The agency's ambition for the UK is not to compete with local marketing agencies, but rather collaborate with agencies and clients to open the door to the fastest growing consumer market in the world. Making their home in Europe's tallest building, the prestigious Shard, the office faces East – a symbolic gesture paying tribute to the culture of China.
Notably, Hylink is the first listed Chinese company to appoint local British leadership to their UK office. James Hebbert is a global marketer with 12 years of international experience having lived and worked in Shanghai, New York, Tokyo and London. Trained by one of the world's largest network agencies, Ogilvy & Mather, James served as Chief of Staff to the Global CEO based in New York, working across a variety of blue-chip international brands such as British Airways, SAP and Unilever. He then spent five years working in China to represent and launch UK luxury and Royal Warrant heritage brands.
James Hebbert, managing director at Hylink UK commented: "In recent years the rate of innovation of Chinese tech has leapfrogged that of western capabilities. The West now looks to China. Hylink is ideally placed, backed by our shareholder tech giants of Tencent, Baidu and Sina, to help western clients understand and leverage the Chinese digital landscape and in doing so, access the fastest growing consumer market in the world."
Mr. Su Tong, founder & CEO at Hylink commented: "Not only is London the most culturally diverse city in the world, London is known for high calibre strategic thinking and creativity, offering real firepower for brands when combined with cost-effective execution and the great capability of integrated expertise that Hylink has built in China. Geographically, the opening of the London office not only serves as an ideal hub for our clients to access Europe but it now plugs a key time zone that ensures Hylink is a truly global network to serve our clients seamlessly around the clock."
With support from the UK's Department of International Trade (DIT) Hylink is launching an ambitious trade initiative – 'Made in Digital China' – scheduled for 2018 which aims to bring China's latest tech and innovation companies to the UK.
Hylink expressed special thanks to London & Partners for their continued support in establishing their business network and hosting their discussion panel at the glamorous riverside Tower Room.
Hylink Digital is China's largest, independent digital full-service agency. Ranked #1 Digital Agency by China Internet (CI) Weekly Magazine for nine consecutive years in a row, 2009-2017; and named a multi-year Effie Greater China Most Effective Independent Agency Network of the Year. Hylink Digital is comprised of industry leading disciplines: digital media, interactive creative, programmatic, SEM, content marketing and investment, EPR/social, research and insights. With headquarters in Beijing, the agency has a total of nineteen offices worldwide and services Fortune Global 500 companies globally.