Up and coming apps in China – Why they matter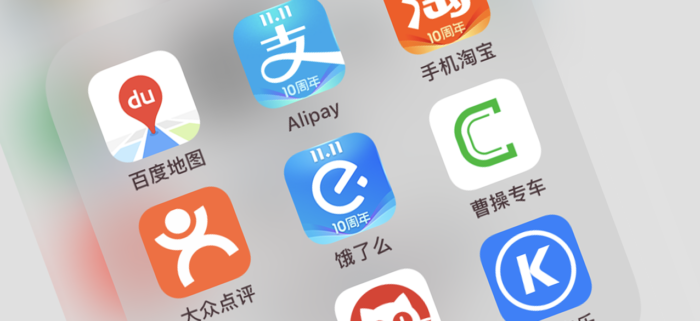 Brands across the world hoping to enter the Chinese market would probably already be familiar with WeChat and Weibo. Some might even have taken an extra step and explored apps such as Little Red Book and Tik Tok.
One thing about China that is unique to other markets is the pace that it is moving at. For example, Douyin (Tik Tok) launched in September 2016, and since then has more than 500 million global monthly active users. Other short video apps such as Kuaishou or Huoshan have also been expanding their fanbase within a short span of time.
With that in mind, here are some up and coming apps in China which you should be paying attention to. Whether or not they will eventually overtake the key players remains to be seen. However, if you're interested in innovative Chinese marketing, these apps should definitely be on your mind.
1. Bullet Messenger
An instant messaging app similar to WhatsApp and WeChat. The app has a highly-efficient communication feature which not only enables the users to realise voice input, voice output, but also supports voice input and text output. This function allows users to record a voice message and the receiver can then receive as text and vice versa. Launched in August 2018, the app surpassed 4 million active users in a span of 9 days.
Why this app is so popular?
1. When sending a text message through voice input, users are able to send an extra voice message (adjusted by a progress bar) to enhance efficiency;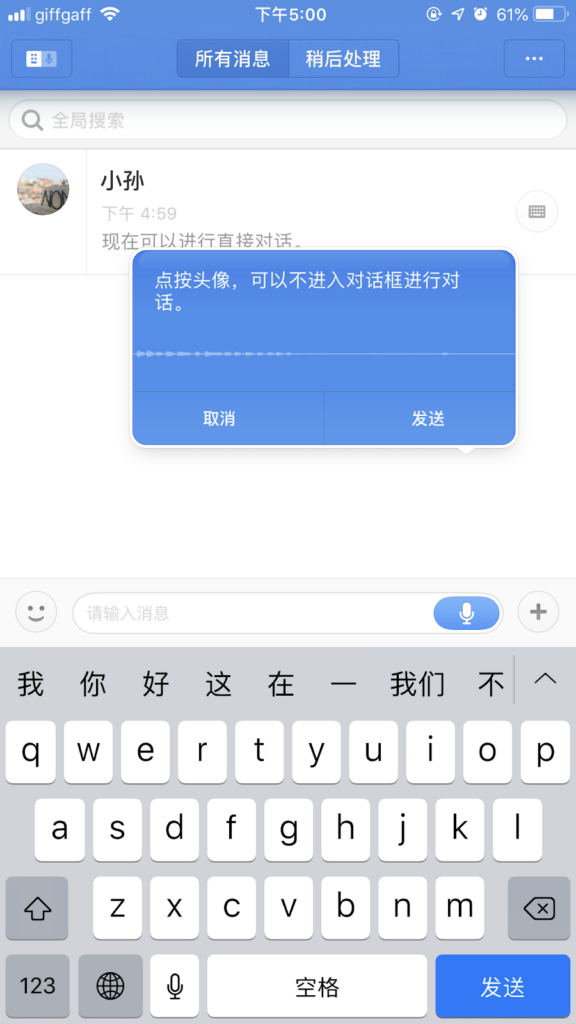 2. Messages can be sent without opening the chat window making chat more efficient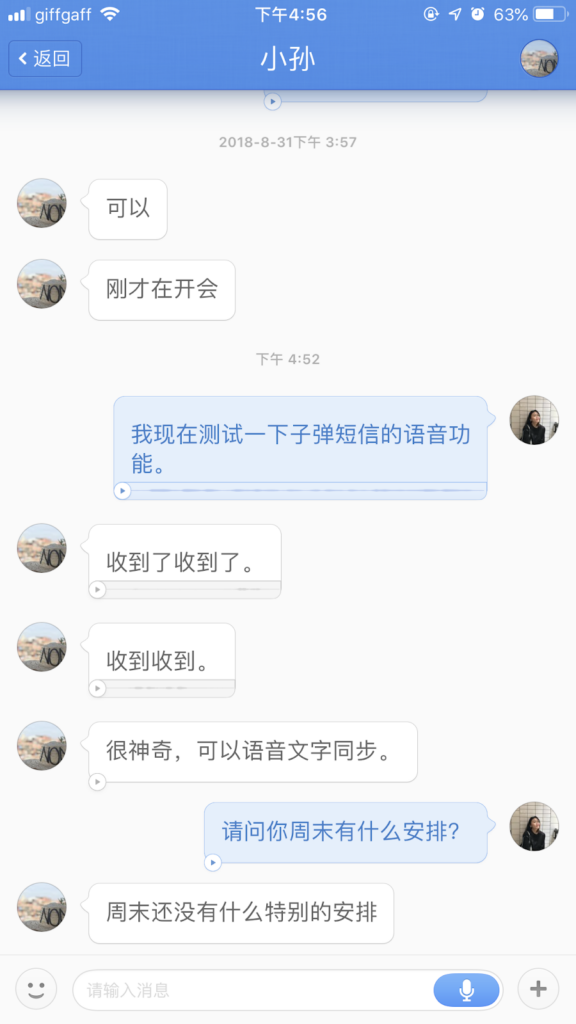 In general, Bullet Messenger manages to add many innovative ideas in terms of function and interaction: by combining message delivery through both voice and text, it minimises the operational steps for users.
There has been speculation on the integration of Bullet Messenger with Alipay, and given WeChat's restrictions to Tmall/ Taobao this could imply that Bullet Messenger might have potential in becoming the next most widely used app in China.
2. YHOUSE app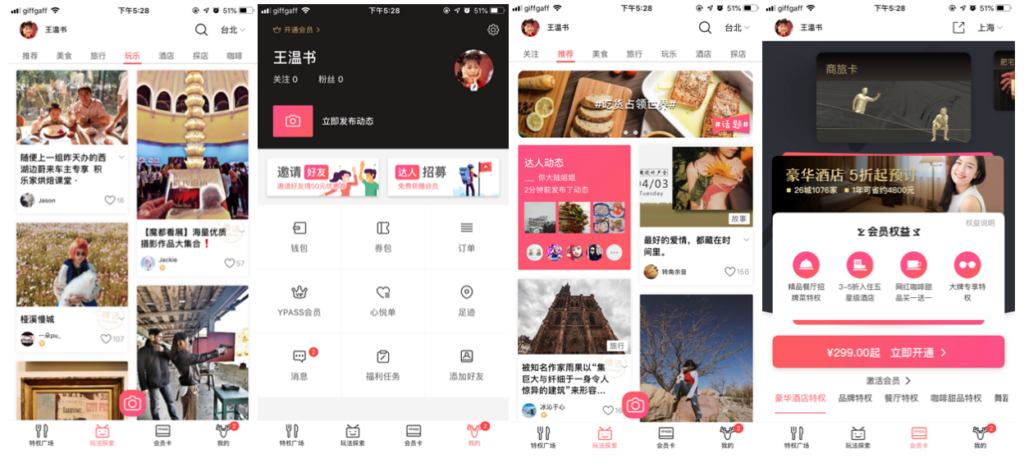 The term "Consumption upgrade" has been circulating since 2017. This implies that Chinese consumers are now more willing to spend on better quality products and experiences.
An app that has identified the opportunity for this is YHOUSE. YHOUSE provides online services that mid and high-end customers require by seamlessly integrating online and offline services in an app and catering specifically for affluent individuals.
Why this app is so popular?
It is an online platform that integrates both online and offline high-end life services for the wealthy middle class. With over 1800 luxury brands and restaurants on this platform catering to its 9 million end users, consumers are able to tailor fit their experiences. They can book a decadent dinner or even a paragliding experience!
YHOUSE has established operation centers in over 15 tier one and two cities to form different user groups based on various hobbies (including food, wine, sailing, scuba diving, horse-riding etc.) The platform encourages active users to share their experiences as well as provide reviews to benefit other users.
Brands such as Piaget, Roger Dubuis, Breguet, Rolls-Royce and Tesla are already on YHOUSE. The brands are carefully curated and some of the experiences are simply not designed for the average middle-class consumers. For example, you could be booking a Breitling combat aircraft experience or a private test drive of luxury car brands such as Aston Martin.
In addition, YHOUSE has also developed integrated marketing channels: YHOUSE app, YHOUSE homepage, YHOUSE electronic magazine, YHOUSE Weibo and WeChat etc to ensure they dominate the market.
3. in app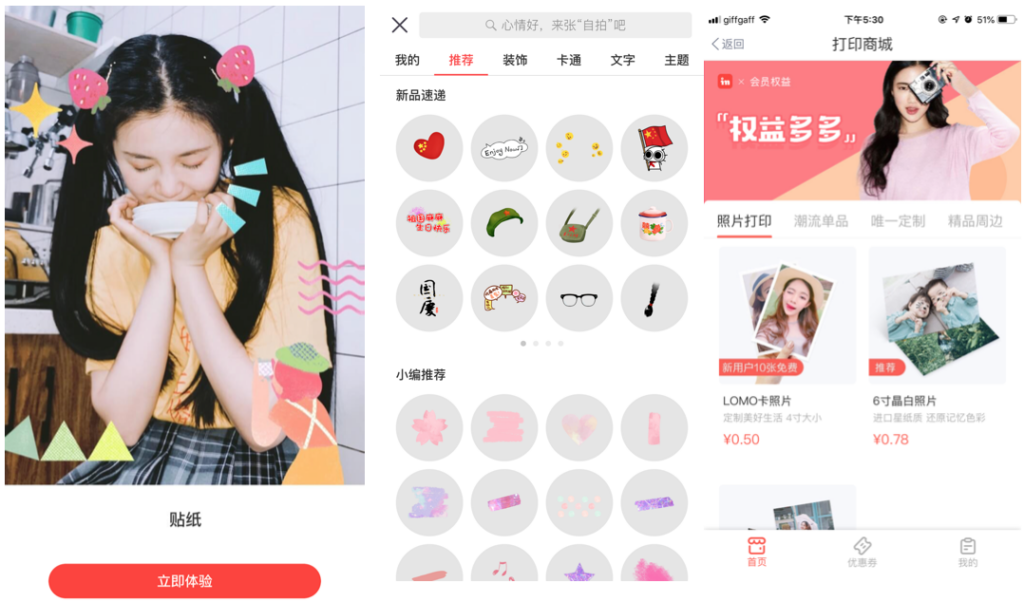 Instagram may have been blocked in China but in app could be the app to take its place. In a span of a year, in app has gained over 36 million users with daily posts of photos reaching almost 7 million. As of June 2016, the number of users reached 80 million.
Targeted at the post-95's, in app strategically uses big data to allow for a better understanding of its users demographic. During the premiere in 2015, in app launched a whitepaper, showcasing the behaviour of its users with some very interesting insights. For example, Libra females tend to take the best pictures, and Scorpio and Virgo ladies prefer to post after 10:00 pm!
Why is this app so popular?
Think Snapchat + Instagram + Facebook. in app allows users to share their whereabouts, tag their favourite brands, beautify their pictures and even add filters to it. Needless to say, it has won over multiple female fans. Several fashion brands such as Maybelline, L'Oreal, Benefit and Innisfree have already been collaborating with in app, hoping to access the significant female-oriented user base.
There will always be new emerging apps being launched in China. This does not mean a brand should be jumping on the bandwagon to explore all of them. However, it is important to be aware of their presence and ensure that opportunities aren't missed.